Commercial & Industrial Lighting Applications
LiteWORKS provides comprehensive control capabilities for your entire facility. Addressable and programmable units are controlled by the LiteTALK modules over the LiteTALK network. Automate exterior lighting with addressable photocells and wireless controllers. Dim LED fixtures via line voltage, 0-10vdc or DMX protocols with LiteTALK (LTRDx) modules. Solid state fixtures may also be controlled with dimming panels (LTDPs) and relay panels (LTRPs). There are numerous combinations and flexible wiring configurations thanks to LiteTALK's twisted pair network, which requires no home-runs and far less equipment than systems that are exclusively DMX, Ethernet or DALI.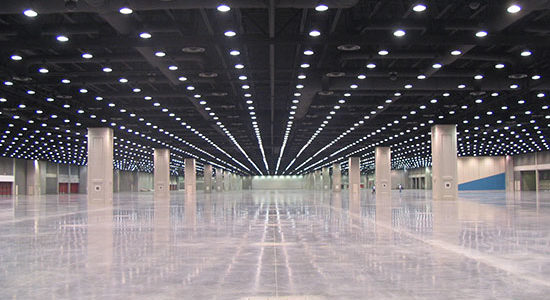 New & Retrofit Installation
Whether you are building a new facility or renovating an existing old or under-performing system, Payne-Sparkman's customized line of products can be designed to work in almost any location. Our LiteTALK network can communicate wirelessly, without the need to run expensive new wiring into the building. And most of Payne-Sparkman's modules run on low-voltage power, making it easier to upfit existing fixtures.
Control from aywhere.
With Payne-Sparkman's LiteWORKS, you can have complete and secure access to your entire facility's lighting system from any web-enabled device. Whether you are court side needing to initiate pregame 'blackout' in the arena from your iPhone; or off site needing to control a few areas remotely. We can make it all happen for you now.
Sports lighting effects
With the LiteTalk control system, any LED sports light can achieve dynamic effects.
Strobe, flash, chase, and instant on or off.